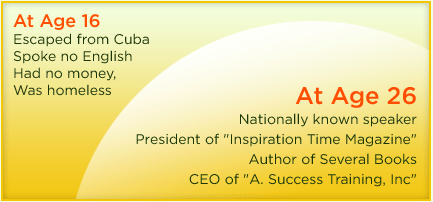 Get Inspired
Signs
What happened can be a sign, a sign to justify, to validate,
to substantiate your next course of action…

Speak Wisely
While what's happening right now might not be completely to your liking, understand that it might just be a temporary dilemma…

Conquering the Mind 02
No great warrior has ever gained ground on the battlefield before gaining ground in the territory of the mind. Conquer yourself…

Amateur or Virtuoso 03
If you ever grow impatient about your current level of success, remind yourself that every great artist was once an amateur…

Doubts 04
Just like fire has a hard time getting traction on wet surfaces; your dreams will skid and lose footing, if your…

Dilation of the Mind 05
Desperation is the internal cry of something within you that wants to come out; and the more intolerable it is the…



What Others Say About Andres
"Your program was entertaining and educational. Our staff loved every minute of it."
Susan Troudux HR Manager – Albuquerque, NM
"Your session wasn't a just sit and listen session. It was energizing, fun, and interactive."
Mary F. – GM Corporation Education Specialist - Janesville, WI
"Andres Lara is an outstanding speaker his messages are life transforming."
Urban Times News - NJ
"Your heartfelt stories and strategies inspired our students to take immediate action."
Beth Diggs, Montclair State University
"Our students were inspired by your fun, energetic, yet thought-provoking message."
Ivelisse Silva, Rowan University
"Andres is one of the greatest motivational minds today."
WFAN Sports Radio - NY